What is a Snapshot
A Snapshot is a way to track changes in the projects over time. When a snapshot is created all the values in the database is saved in that point in time. These are used in reports to show changes. The style how the changes are displayed in the report can be configured when the report is created.
When you have created a minimum of two snapshots you can use them with the functions below:
If you want to use this function, it is important to choose the time when you create your manual snapshot. Usually after a report that is generated as a official document to share in the project team.
Creating a Snapshot
To create a snapshot click the dropdown button Create and choose Snapshot

A dialogbox will ask what name the snapshot will have and who has created it, here a description can also be filled in. The date of the snapshot is automatically created.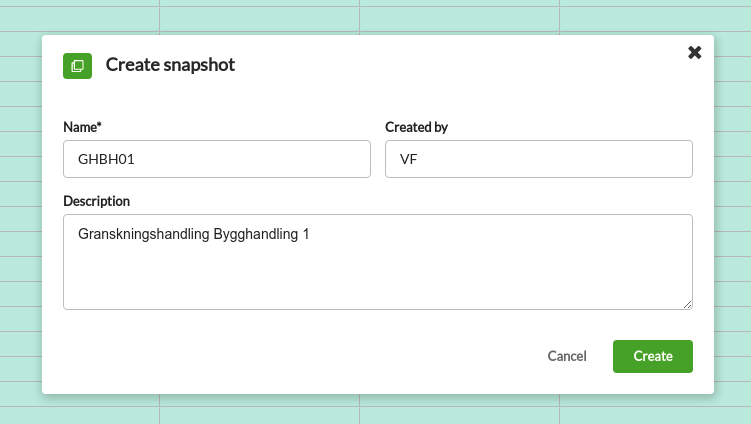 Automatic snapshots
When a model is synced an automatic snapshot is created for that models information in Interaxo BIM Data.
Automatic snapshots can only be used to show changes sent from model and not in combination with manual ones! The reason it does not work is that automatic snapshots do not contain changes made only in Interaxo BIM Data.