Internal comments
For customers who work with processes in projects that include both internal and external members, internal comments are a great new way to keep all communication related to the case inside the same entry. Instead of taking notes elsewhere and sending emails back and forth within the internal group to prevent the information from being available to everyone, you can now use internal comments that only a certain selection of members have access to write and read.
As an example, notification of changes will always require an internal dialogue to arrive at a decision on whether the change is accepted or not and there will always be a discussion about price which is sensitive information. This dialogue does not the company want the executing party to have access to and instead of sending e-mails back and forth or having a discussion elsewhere, internal comments will now solve this challenge. You will streamline communication paths and get better control and overview when all communication is gathered in one place.
Access to Internal Comments is set up once per room and the members who have been given access will have access to all active folders and active folders with workflow in the specific room. You set up access under room settings in the administration client:

In the comments field you will then have the opportunity to write a public comment available to everyone, but you can also change the view to Internal comments by clicking on «Switch to internal comments». To make it extra clear to you as a user, we have used a yellow background color both where you write the comment and on the comment itself when it is saved. We have also added in the prompt that it is Internal comments you now choose to enter.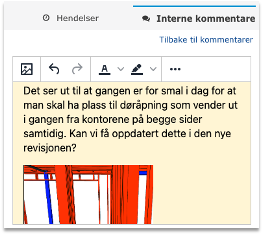 As with comments in general, you can choose to add one or more pictures to the internal comment and you can choose to notify someone by using the function "@" and the name of the person. You will only have the option to notify the members defined with access to internal comments on room settings.
After you have saved the comment, the text "Internal comment" is also displayed before the date and time of the comment. Select "Switch to comment" if you want to return to the comment field available to everyone.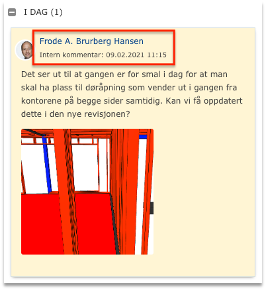 Internal comments are primarily made so that you can gather all discussion and clarifications around a case in the same place without everyone having access to this. Internal comments are therefore not stored in the log. It is also not possible today to print internal comments to PDF or CSV when choosing export. On the other hand, the number of comments in the column in the list view will show the total number of comments for all members. If there is a comment + an internal comment on the entry, the number 2 will be displayed in the icon as in the picture below.