In order to synchronise information from the BIM model to Interaxo BIM Data and back, an addin / client needs to be installed in the design tool used for the design of the person(s) to be responsible for the model and database being updated with current information.

In Archicad and Revit, Interaxo BIM Data creates a BIMEYE ID which is the connection between the data in Interaxo BIM Data and the objects in the model. Therefore, it is important to make the connection with Interaxo BIM Data to the production model and not a copy of the same.
As for the connection to Simple Bim and IFC files, it is IFC-GUID that is used there and therefore you can update with copies as long as IFC-GUID is kept from exporting design tools every time.
Update of client
If there has been an update to the Design Tool Client, it will tell you about it. When you start your design tool, a pop up will appear telling you this. You can choose to install later or immediately. When installing the client, you need to restart your program.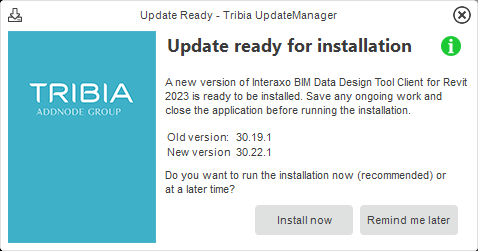 Supported Design tools and versions (2023-05-01):
Autodesk Revit 2021, 2022, 2023, 2024
Graphisoft Archicad 23, 24, 25, 26
Simplebim 9 and Naviate Simple BIM 2022.6 (IFC together with Interaxo BIM Data )
The Interaxo BIM Data Design Tool Client is a native Windows application and cannot run directly on Mac OS X.